Reunited – LWS Comics #228
Stacy is finally reunited with Ryan– Wait– Who exactly is this hairy creature hissing at Stacy? Turns out it is in fact, Ryan after 6 months of isolation. Luckily, Stacy's embrace calms him and melts away his feral exterior. She utters the words, "I missed you." To which he replies, tears welling up, "I missed you too~"  Aw… how sweet. The two reunited again. Hehe. 🙂
I hoped you liked this week's LWS comic strip. If you did, then please check out my other LWS comics. You can find them the LWS comic archive.
Also, don't forget to check out my PATREON! I have full color comics only available through Patreon, and there is even a special tier that allows patrons to see ADVANCED RELEASES. That's right– see pages ahead of everyone else and support the artist at the same time! It's a win-win! And don't forget to like and share! 🙂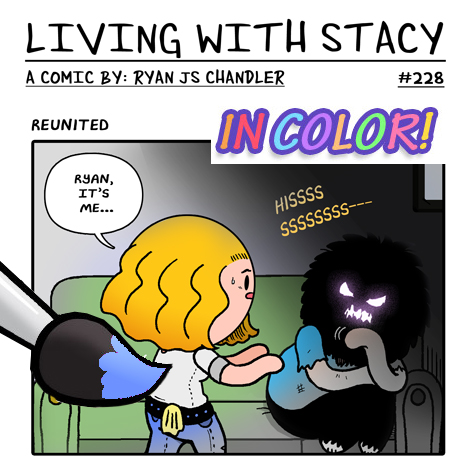 Tags: alone, coddle, comedy, Comics, cute, isolation, Living With Stacy, love, LWS, slice of life, soulmates
Trackback from your site.