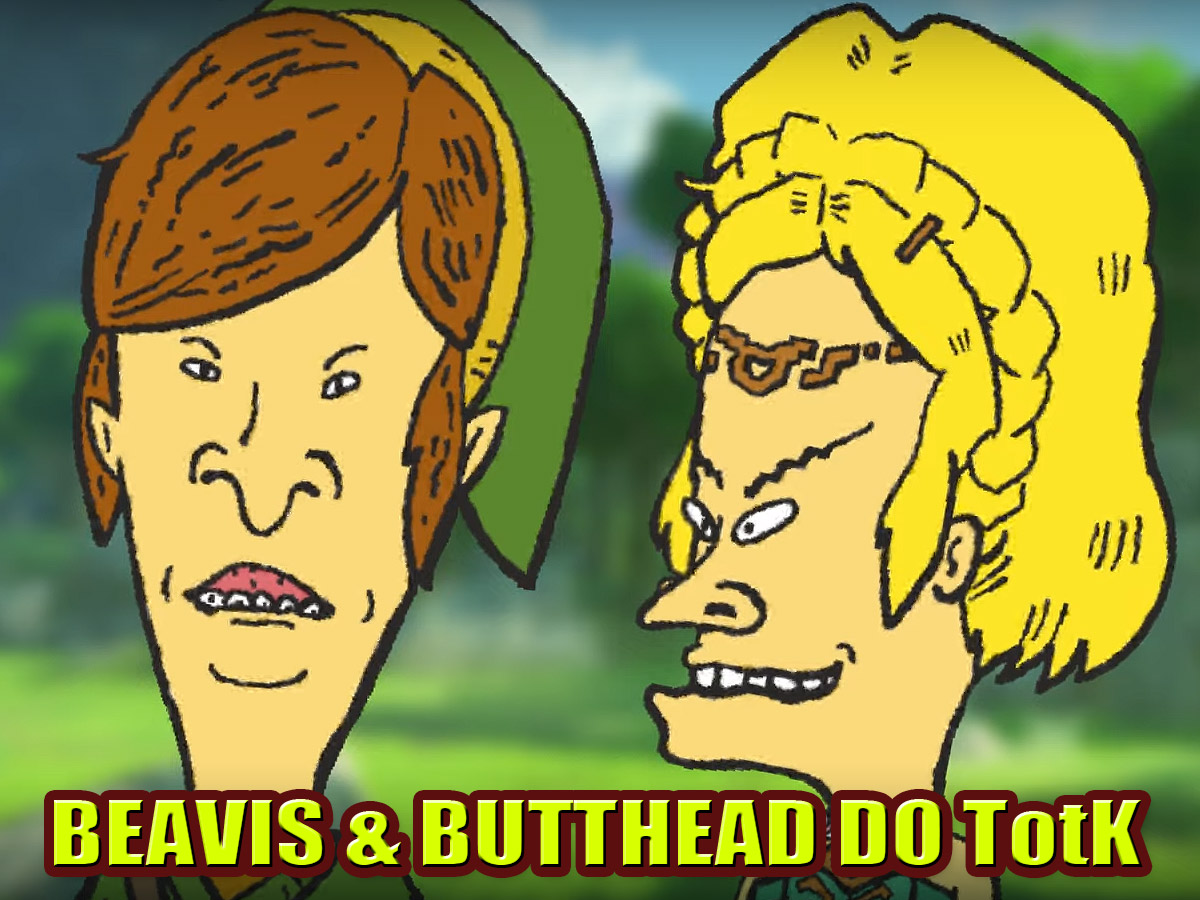 It's Beavis and Butthead do Tears of the Kingdom Episode 1: "Look What I've Built With This Magic Hand."
In In the vast world of video game fandom, fan creations have always held a special place. They showcase the passion and creativity of gamers, often resulting in unique and unexpected works. And today, that video is  which features iconic characters Beavis and Butthead in a Legend of Zelda cosplay, takes a humorous twist on the beloved franchise.
The animated parody introduces us to a hilarious alternate version of The Legend of Zelda. Beavis takes on the role of Zelda, while Butthead embodies the legendary hero, Link. The video is filled with absurd humor and irreverent references, making it a treat for fans of both The Legend of Zelda and Beavis and Butthead. The autobuild's "magic hand" ability, combined with the duo's crude antics, leads to the creation of a giant wooden figure with a rather unconventional appendage—a flaming "wood man with a fire dick."
Fan Creativity at Its Finest: What makes this video and others like it so fascinating is the boundless creativity and imagination of fans. Flapjack Studios "Beavis and Butthead do Totk" took two well-known pop culture icons and seamlessly merged them into the world of The Legend of Zelda.
The animation captures the essence of the original Beavis and Butthead series, infusing it with the vibrant world of Hyrule. The video's irreverent humor and unexpected twists make it a memorable experience for fans. For instance, the infamous "wood man with a fire dick" makes his glorious return. And it's hilarious! Make sure to look up videos of the insane creations the community has been building. Truly comedic gold!
Look What I've Built With This Magic Hand is a prime example of the captivating power of fan creations. It serves as a reminder of the limitless possibilities that come from the creative minds of fans and their ability to breathe new life into cherished universes. So, next time you stumble upon a fan creation, take a moment to appreciate the passion and ingenuity that went into its making. And for Beavis' sake, hit that like and subscribe button! 🙂