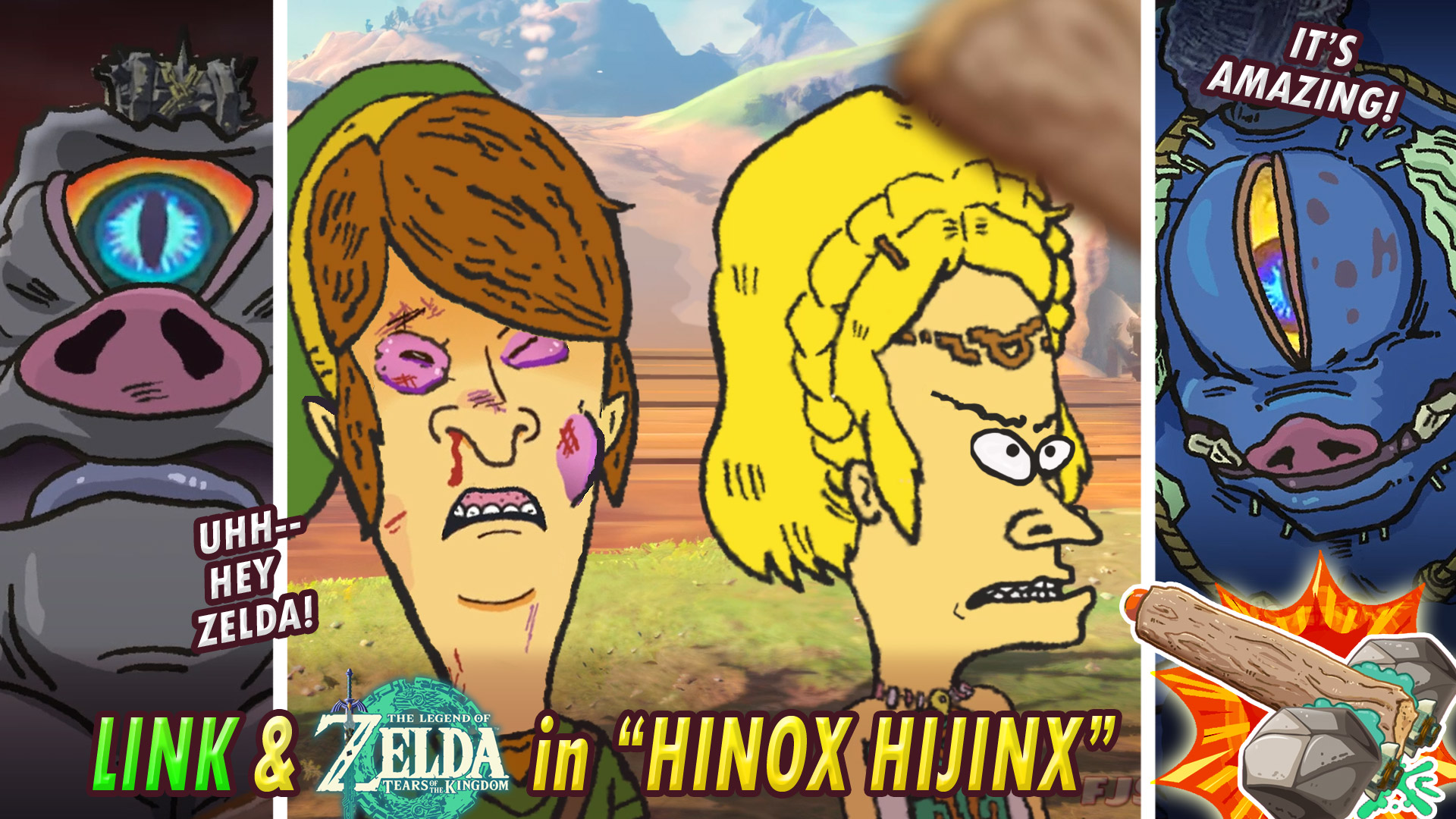 Beavis & Butthead in HINOX HIJINKS | Zelda Tears of the Kingdom! Experience an uproarious animated parody of "Legend of Zelda: Tears of the Kingdom" starring Beavis and Butthead as the uproarious counterparts to Link and Zelda. Witness their comical adventure as they face a slumbering Hinox with an unconventional autobuild weapon and an unforgettable strategy!
Hinox encounter at Corok Bridge ends in a shlong battle! 🎮😂🍿
Link (Butthead…or LinkHead?) discovers a quirky power – the ability to autobuild phallic objects. With his eccentric ingenuity, he creates a colossal penis-shaped log and balls, with two Zonai rockets attached at the base. Hilarity ensues as he launches the shlong like weapon at the unsuspecting Hinox's nether regions, leading to an instant, laugh-inducing triumph.
For gaming enthusiasts, animation aficionados, and fans of low-brow comedy, this Zelda Tears of the Kingdom animated parody starring Beavis and Butthead is an absolute must-watch! From Butthead's hilarious autobuild antics to the comically perilous encounter with the Blue and Black Hinox, this video delivers an lol experience from start to finish. Join Beavis and Butthead as they navigate the quirky world of Hyrule, and be sure to hit that "like" button! In the world of Beavis and Butthead, even with just a quarter heart, the laughs never cease! Want more? Check out the first episode here.
Keywords: Beavis & Butthead in HINOX HIJINKS | Zelda Tears of the Kingdom! Hinox, Best Autobuilds in TotK, Hilarious Autobuilds, Beavis and Butthead parody, Legend of Beavis. Zelda x Beavis and Buthead mashup.