Summer Be Like
Hey all you Living With Stacy fans, I have another new LWS QUICKLETS for you called "Summer Be Like–" That's right, it's almost Summer! And that means it's time for a summer style joke! You ready? Okay. What happens when the general public meets loosened social restrictions…?
PAR-TAAY!!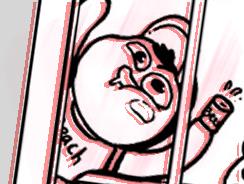 LOL. This was inspired by all those people who went to that park in Ontario. Some 1000 or so people trying to alleviate their cabin fever, all at the same time, packed into one pubic park! Yikes! This was just after the Provincial Government loosened some parks and beach restrictions. I guess when you give a little, you get A LOT! 🙂
Here's hoping no one there was actually sick, or had Covid-19. We can all acknowledge that mass gatherings and ignoring social distancing is reckless, but we don't want anyone else getting sick.
If you liked this week's LWS QUICKLET then you'll most likely like my others like Mail Be Like–. Think smart and stay healthy. 😉

Tags: comedy, Comics, cute, isolation, Living With Stacy, LWS, quicklets, slice of life
Trackback from your site.